NVIDIA joins a trillion-dollar net market value club as the company begins its insurgence for AI chips that power chatbot sensation and other Open AI applications like ChatGPT. The shares of AI and chip maker companies have seen a forward leap since last week, enabling them to observe a rise of 7.7%, giving them a value of $419.38.
Several wall street analysts have remarked on this phenomenal scenario by calling it unprecedented. Next to it lies Taiwan Semiconductor Manufacturing Co LTD, with a net worth of $535 billion.
This marvelous performance of NVIDIA in the stock market has raised the expectation of traders and investors for its stocks and forex trading. The current net worth of NVIDIA is $1trillion, which is comparable only to tech giants like Google, Apple, Microsoft, and Amazon. The same makes NVIDIA the fifth most valuable company in the American market.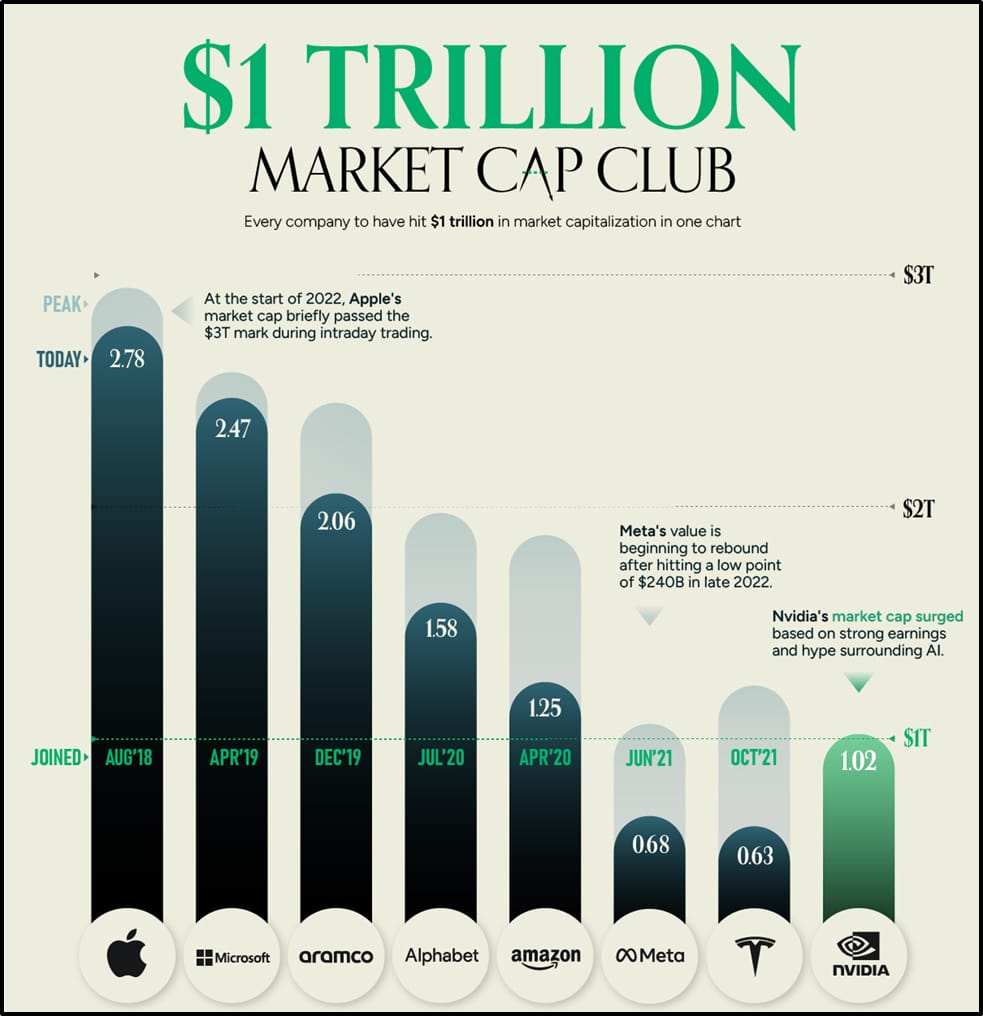 Despite this massive evaluation of NVIDIA, some market analysts suggest that AI technology is still immature and has room for growth. The same requires wide adoption in the coming years. The crowd expectation is also affected by this massive growth in NVIDIA's stock boost. Some Wall Street analysts are re-evaluating the chances of a rise in price after this boom of 110% this year.
Understanding NVIDIA's business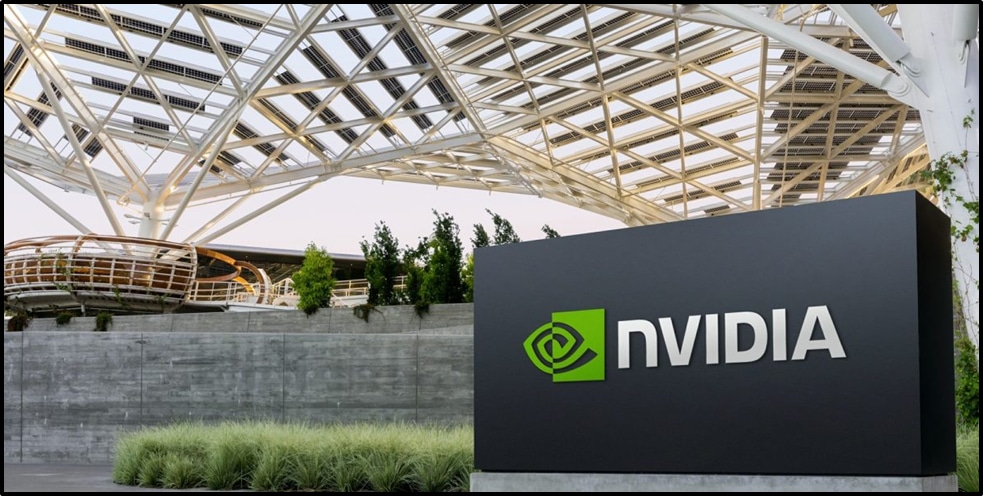 Business Verticals
–          Graphics processing units (GPUs)
–          High-performance computing (HPC)
–          Artificial intelligence (AI)
–          Data center
–          Gaming
Revenue breakup for NVIDIA
| | | |
| --- | --- | --- |
| Business Components | Revenue CY23 (Bn $) | % of Total Revenue |
| Data center | 4.28 | 59.5% |
| Gaming | 2.24 | 31.2% |
| Professional visualization | 0.295 | 4.1% |
| Automotive | 0.296 | 4.1% |
| OEM & Other | 0.077 | 1.1% |
| | | |
| Total | 7.19 | 100.0% |
How & When It All Began?
NVIDIA was founded in 1993 and started as a 3D graphics and gaming. It has shown this inspiring gain in the market through its potential to identify emerging trends. Its decision to harness GPU technology to solve problems the CPU cannot solve was exemplary.
The remarkable growth of the company and its emergence in the trillion-dollar club is the index of trust investors have in it. The decision of NVIDIA's founders to introduce GPUs across industries was futuristic and created a base that contributed to their current success. Key roles NVIDIA's GPU technology played in shaping these markets: –
Better gaming platforms that facilitated enhanced user experience with smoother and high-quality graphics.
More enhanced visualization solutions for design, manufacturing, and digital content creation.
Automotive AIs for cockpits facilitated a smoother and safer driving experience.
Accelerated compute-intensive workloads for enterprise, public sector, and edge markets data centers.
What Future Holds for AI-Based Companies?
Giants of respective industries have noticed the growing relevance of AI. In 2022, it was predicted by PwC consultancy that AI will contribute by a figure of 15.7 trillion to the global economy by 2030, and the same is the GDP of China now.
Several market participants and analysts speculate that by 2030 the AI market will expand at a compounded rate of 37.3%. Business Insider has delivered a report conveying that by 2030, the sector will command a value of $1.81 trillion.
Microsoft Corp and Alphabet Inc-controlled Google predict that AI will evolve the way of doing things as of now. They have already added AI to search engines and productivity software to show their aggressive stance. Even now, AI is taking a forward leap and is evolving the way of doing things to facilitate a more productive and efficient ecosystem in corporate.
Since the launch of ChatGPT, the crowd expectation is AI will supercharge the swaths of tech industries and facilitate ground-breaking applications.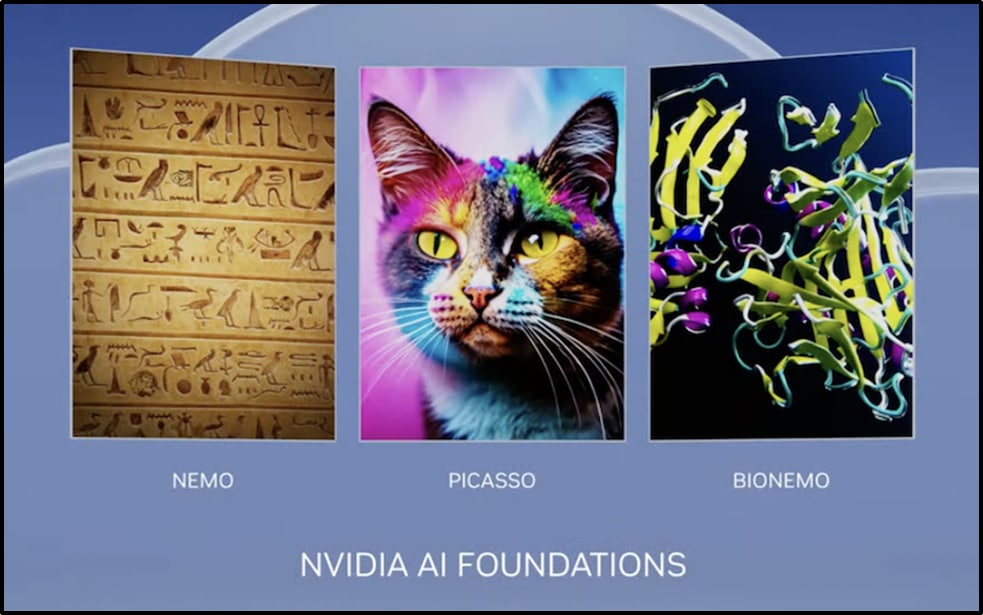 NVIDIA jumped by 30% after it announced its earnings last week. The management has given strong guidance for the coming year. Let's go. The chairman has guided for a 50% quarter on quarter growth for the next few quarters. NVIDIA is banking on its AI platform to generate significant revenues over the next two years. It believes that generative AI will be a game changer in the artificial intelligence space. With generative AI NVIDIA aims to target businesses where AI functionality will improve productivity and ease of doing business. Nvidia hopes to generate a good amount of its revenue and profits from its data center division in the coming quarters.
The introduction of ChatGPT and its popularity around the globe were clear implications of the occurrence of some major incidents. Analyzing the market also requires knowledge of major global incidents and encrypting their effect on the global marketplace. ChatGPT uses 10,000 NVIDIA GPUs to function, that just shows the potential for NVIDIA in the AI space.
Concluding Remarks
Investors and analysts have upgraded the stock after its earnings and conference calls details. The current price of NVIDIA is factoring in robust growth across all divisions over the next two years. Since we are at the inception of the AI revolution, we are yet to know the full potential of this technology and its impact on earnings for NVIDIA and its competitors. Over the next few quarters, we will get to see earnings from companies like Microsoft, NVIDIA and Google which will give us a clear picture of how these companies have been able to generate revenue and profits from products like ChatGPT and Bard.